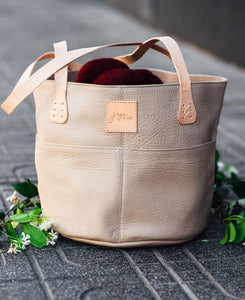 Joji & Co Hot Pink mini delta Leather bag
Regular price
Sale price
£190.00
Tax included.
Shipping
calculated at checkout.
---
Please note the image is shown in the sand colour but the bag will be the hot pink leather.  
Please note this bags are on preorder with Joji & Co and may not arrive in time for Christmas. 
Please note Joji & Co bags are exempt from any discount code.
Elevate your everyday with our Mini Delta Totes, a fusion of form and function that redefines the art of carrying. Handcrafted in the heart of Argentina, these totes are a testament to artisanal excellence and a passion for locally sourced materials.
🌟 Key Features:
✨ Compact and Practical: The Mini Delta Totes are designed slightly smaller and shorter than their bigger siblings, the Delta Totes, allowing you to effortlessly access and admire the contents within. It's the perfect balance between style and convenience.
✨ Timeless Elegance: Crafted with genuine hammered and vachetta leather, our totes age beautifully, developing a rich, unique patina over time. The long vachetta straps not only ensure durability but also showcase exquisite craftsmanship.
✨ Delicate Details: Our totes are adorned with intricate cross-stitching details, a testament to the love and care that goes into making each piece.
✨ Organization Perfected: Two spacious outside pockets offer quick access to your essentials, while the inner pocket provides secure storage for your valuables.
📏 Dimensions:
Round Base: 10.5" in diameter
Depth: 10"
Large External Pockets: 8.5" x 6"
Internal Pocket: 7.5" x 6"
Shoulder Straps: 28" each
 
❤️ Handmade in Argentina: Our Mini Delta Totes are meticulously handcrafted in small artisan workshops in Argentina, honoring time-honored traditions and showcasing the skilled hands that bring them to life.
Experience the perfect blend of fashion, function, and quality with our Mini Delta Totes. Elevate your daily style and enjoy the convenience of thoughtful organization. Make a statement with the elegance of locally sourced materials.